Automated
Guided Vehicles
Solving AGV (automated guided vehicle) Movers are customised systems designed for continuous operation mainly in industrial environments. Automated guided vehicles are designed to suit our customers' specific requirements and thus small AGVs with capacities of only a few hundred kilograms and heavy-duty AGVs with capacities up to a hundred tons or more, are equally part of our product range.
Solving Automated Guided Vehicles (AGV) are used for moving various loads long distances and serving automated production lines. Heavy AGVs are often chosen to handle large paper rolls, steel coils, engines, vehicles, and many other loads. Smaller AGVs are typically used for handling various industrial loads and medical equipment in hospitals.
Typical applications of Solving automated guided vehicles – AGVs
Solving AGV systems allow an efficient way of transporting both lighter and heavier materials in production processes and assembly lines.
Assembly lines for vehicles
Production and storage of rolls
Production and storage of coils
Production & storage of steel bars & long goods
Automated handling of pallets
Production and storage of boards and panels
Assembly lines for machines
Cut sheet paper pallet handling
3 reasons why
1
Customised
Solving's handling systems are not off-the-shelf solutions, but tailored systems to suit each customer's specific handling requirements.
2
Efficient
Solving AGVs are reliable 24/7 installations designed to enable productivity and efficiency to be increased.
3
Safe
Safety devices such as scanners, bumpers, cameras, warning signals and lights, ensure that the automated guided vehicles slow down or stop whenever an obstacle is detected, which ensures safety for both personnel and products.
Solving AGVs are fitted with an HMI for quick and easy interaction with the operator. The AGV system is controlled by a fleet manager that can be connected to the customer's WMS or ERP.
All servicing points are easily accessible and the latest computer technology advises operators of maintenance requirements. Our automated guided vehicles are mainly based on wheels but as a speciality we also offer solutions on air bearings, for instance for very heavy loads.
FAQ
When do I choose between an AGV and a Mover on air bearings?
Generally speaking, automated guided vehicles are suitable for either lighter or heavier loads in a continuous 24/7operation, whereas Movers on air bearings are more suited to handling heavier loads, from a few tons to a thousand tons or more, being moved less frequently and over shorter distances. Exceptions are always possible, so please contact our sales team for discussions about your specific requirements.
How safe is an AGV?
Solving AGVs are fitted with comprehensive safety devices enabling the automated guided vehicle to slow down and stop whenever an obstacle is detected. Safety devices include scanners, bumpers, cameras, warning signals and lights.
What are the different types of AGV navigation methods?
Solving AGVs use laser navigation, contour navigation, a painted line, magnetic tape, or magnets in the floor. In some cases, we recommend multi-navigation, i.e. a combination of different navigation systems.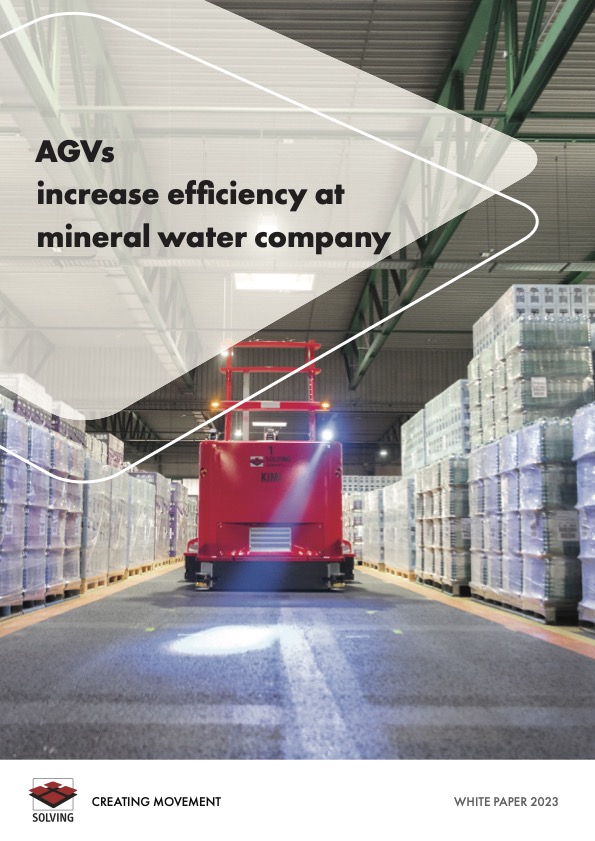 AGVs increase efficiency at mineral water company
Learn how we helped a producer of bottled mineral water in becoming more efficient by automating the handling of the palletized water bottles in their warehouse
What advantages do Solving automated guided vehicles, AGVs, provide?
Integral safety systems such as bumpers, lights, and emergency stops
Less material-damage due to safe and precise handling
Unmanned operation reducing labour costs
Short payback period
Efficient and continuous operation, 24-hours a day
A clean and safe working environment reducing the risk of work-related injuries
Avoiding monotonous work
Tailored solutions to meet customers' requirements

Do you need a bespoke, tailored AGV to meet your specific handling requirements?
Solving AGVs suit customers requiring more than a standard, off-the-shelf solution.
Book a free consultation with our experts where you can present your unique challenges.
Which safety systems are available?
Solving's automated guided vehicles are equipped with the latest safety systems to avoid collisions or injuries. These can be speed-dependent laser scanners for personal safety, and audible/visual warning signals, and emergency stop buttons to guarantee safety for personnel and load.
How are Solving AGVs navigated?
Different navigation systems can be chosen based on the customer's requirements: frequency of transportation, existing facilities, cost of installation and future expansion. The most common systems are laser, contour, magnetic spot, and magnetic tape navigation described below. In some cases, we recommend multi-navigation, i.e. a combination of the different options available. (Pictures: Kollmorgen)
Laser navigation
Laser navigation provides the customer with extensive freedom because the AGV does not need any tracks, wires or rails, but can be easily programmed for both indoor and outdoor driving. The driving routes can easily be changed with the software. A rotating laser beam detects reflectors that are placed in the building, and based on these locations the route is calculated in real time. This navigation method ensures high precision and is suitable for higher speeds.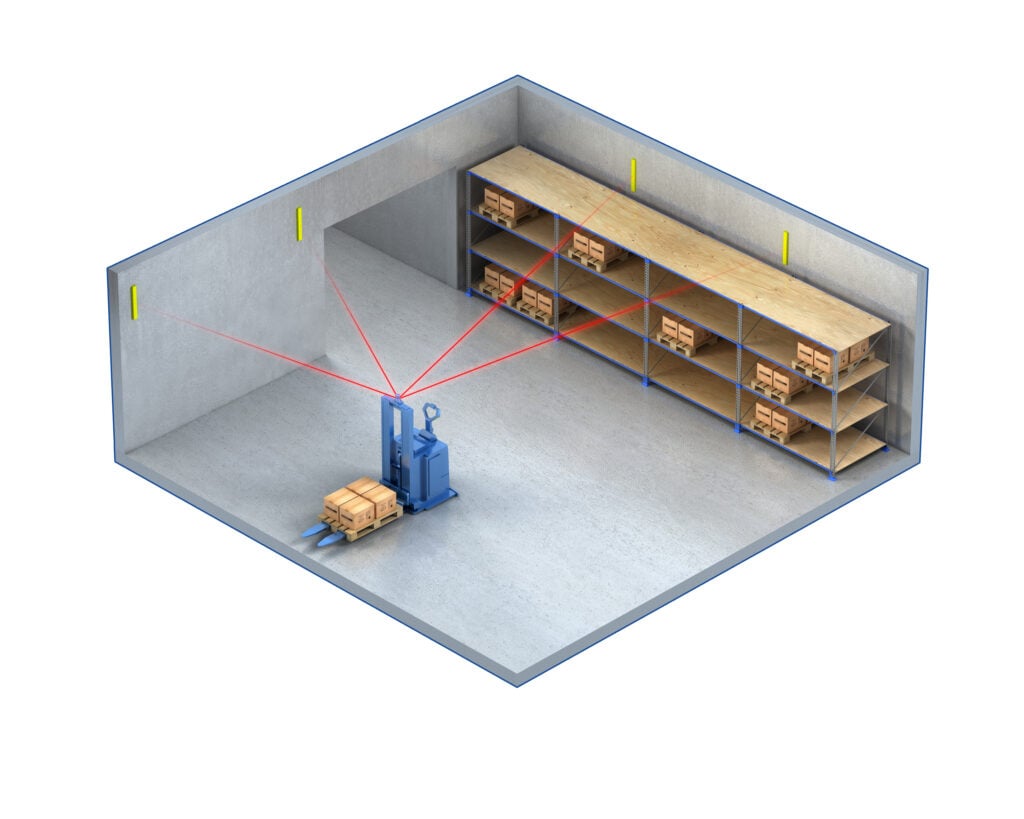 Contour navigation
Contour navigation, also called natural navigation, uses objects in the existing environment meaning that all boundaries for controlling AGV driving paths are removed. It requires only a short installation time and so costs are reduced and the effect on operations minimised. It is easy to expand existing AGV systems or create new AGV paths. Contour navigation is applicable when objects in the driving path do not change significantly. Contour navigation is mostly used in combination with an other navigation system.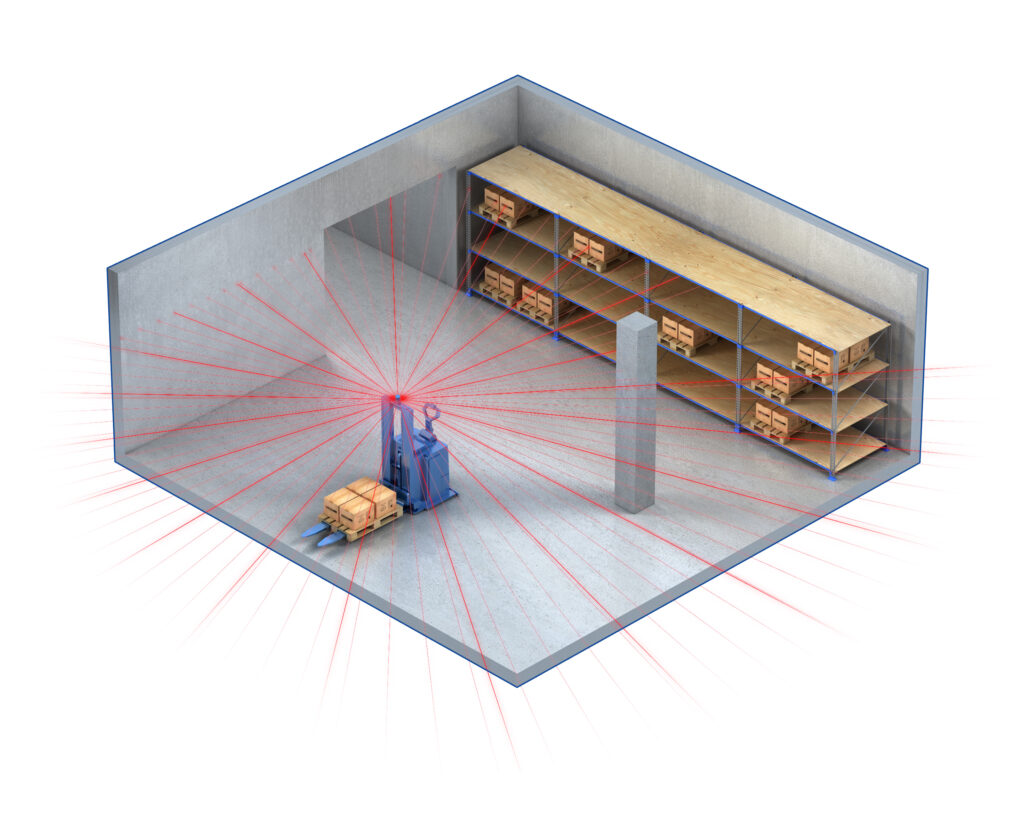 Magnetic spot navigation
Magnetic spot navigation uses magnetic discs that are embedded in the floor and detected by onboard sensors. The AGV position is updated using measurements to spot magnets. Magnetic spot navigation is a durable and good complement to laser or contour navigation.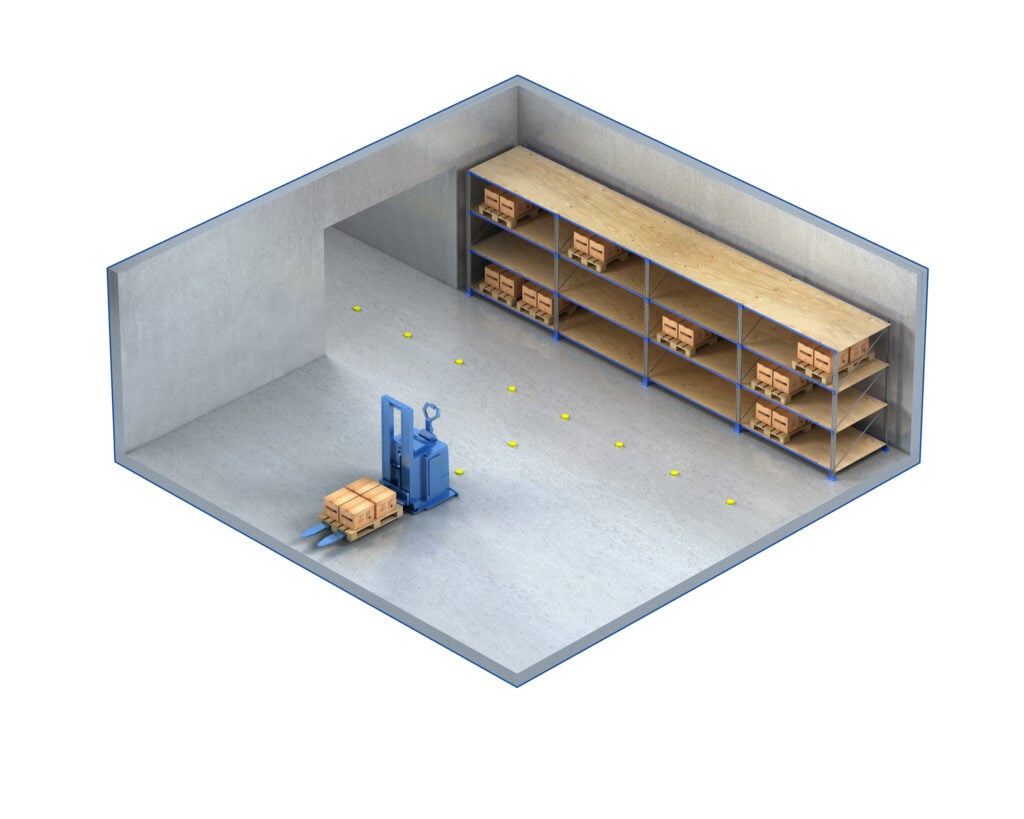 Magnetic tape navigation
The AGV follows a magnetic tape on the floor. Vehicle movements are tracked and their positions are updated continuously. The navigation is active at all times. This is a cost-efficient method, suitable for indoor use.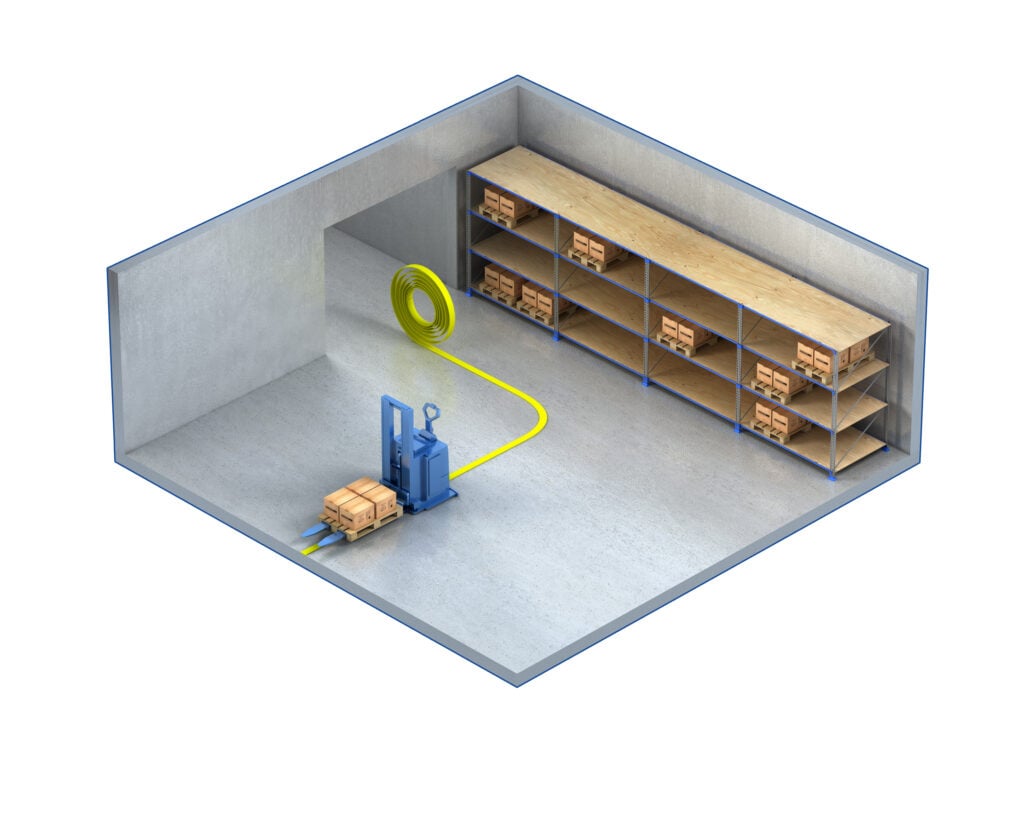 Inductive wire navigation
A wire is embedded in the floor providing very high precision. This option is appropriate for situations where the layout is planned to remain unchanged.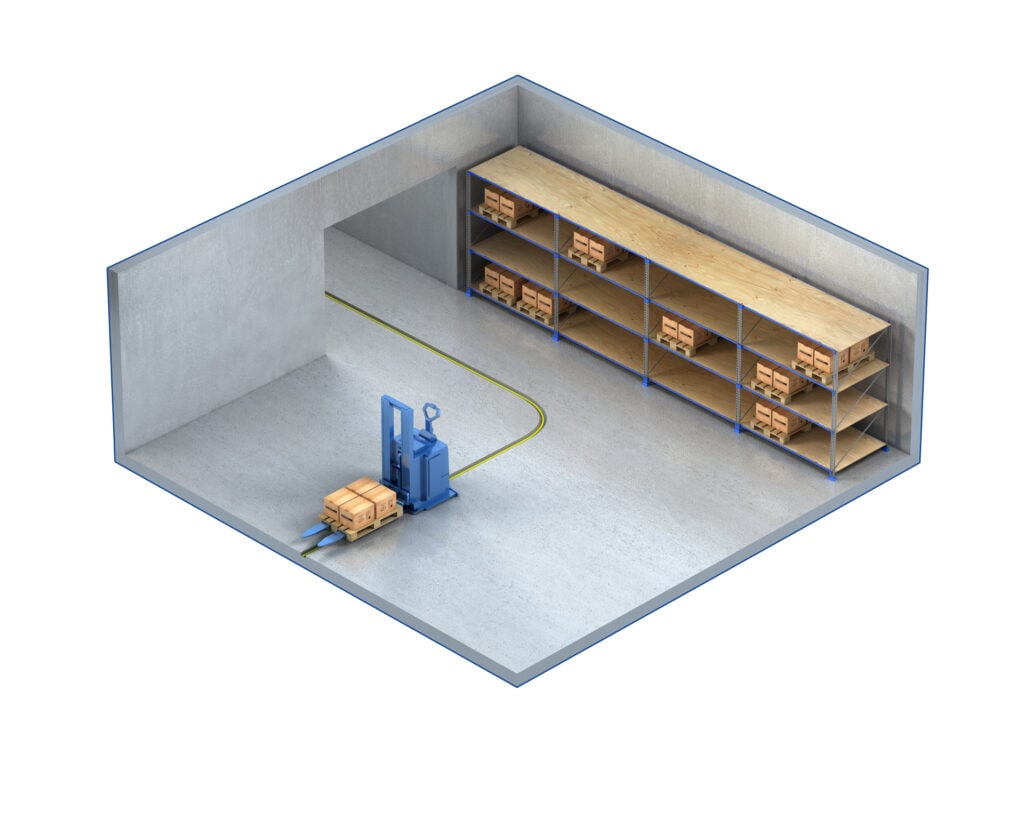 Barcode navigation
Barcode navigation uses position markers on the floor.
Barcodes provide precise navigation in open areas without walls, where other navigation methods cannot be used. It is a flexible solution if changes in the environment occur.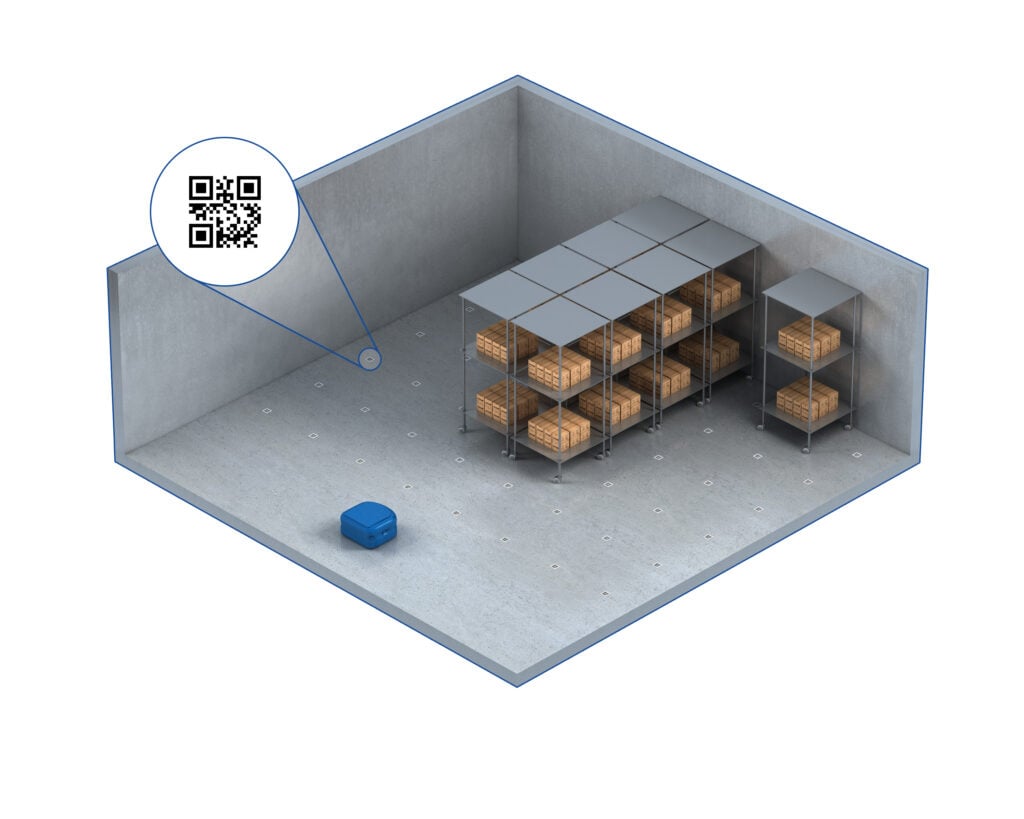 Multi-navigation
Multi-navigation is a combination of navigation methods and used where conditions dictate, or extended precision is required.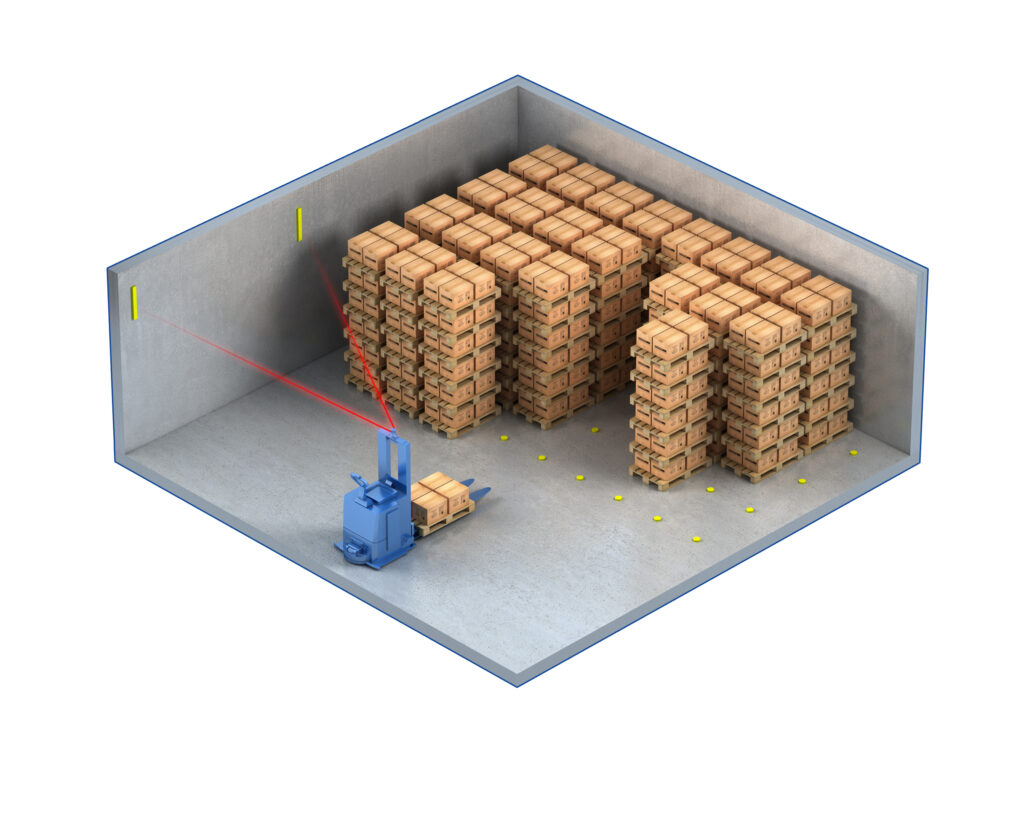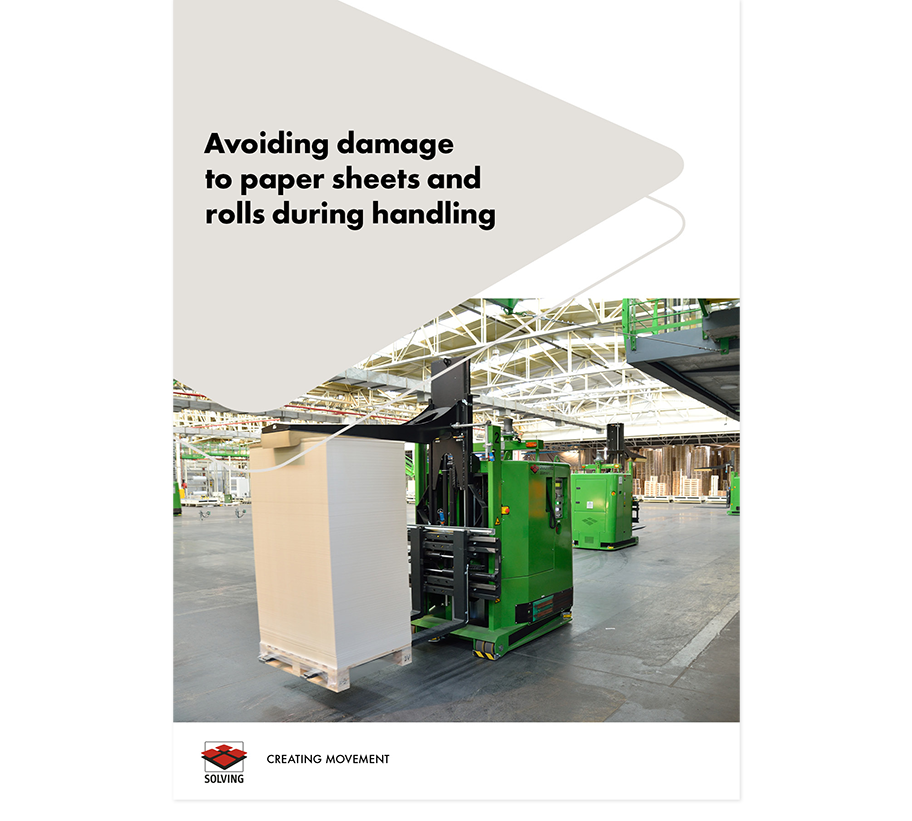 Avoid damage to paper sheets and rolls
Learn how to avoid damage to paper sheets and rolls during handling. Download our whitepaper now!
Overview of an AGV – system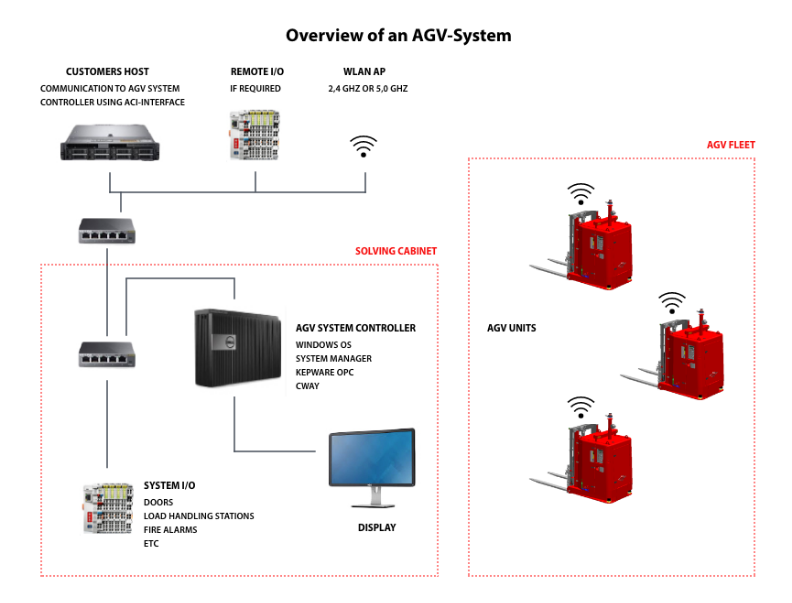 What constitutes an automated guided vehicle, AGV, installation?
An AGV-system consists of the following main parts:
Customer Host
(also known as the high-level system)
An AGV system is a resource that works nonstop around the clock, save for a few periods to charge the batteries in the AGV units. However, a Customer Host is required to give clear orders to the automated guided vehicle system, which only operates on demand.
Usually, the Customer Host is the customer's ERP (Enterprise Resourse Planning), MRP (Material Resource Planning) or WMS (Warehouse Management System) system.
AGV System Controller
The AGV System Controller, or more precisely the System Manager, possesses information on everything that happens in an AGV system. The System Manager is constantly communicating with the Customer Host and transfers the latest information from the floor and is constantly communicating with the automated guided vehicle units. 
The System Manager is also communicating with external sources, such as doors, load handling stations and fire alarms using the System I/O or Remote I/O. This communication is achieved using Kepware OPC.
Everything that happens in an AGV system can be viewed in the CWay software, the graphical user interface, showing what is happening in real time. Everything that happens is also documented in a log file.
AGV fleet and AGV units
The AGV units form the AGV fleet and carry out the job tasks in an AGV system. The AGV fleet can consist of different types of AGV units, each specialized in their own task. In an AGV system different types of AGVs can be mixed to suit the requirements. The AGV units receive their tasks from the AGV System Controller.
WLAN AP
The System Manager sends out messages via the WLAN AP to the AGV units, which receive these messages via antennas onboard the AGVs.
System I/O and Remote I/O
These are used when the AGV System Controller needs to communicate with an external source. For example, such a source can be doors that must be opened to let an AGV unit through or sensors detecting that a load is ready to be picked up.
AGV News
Contact us
Get in contact with us. We would like to hear from you.
Fill in the form or contact us directly.