Air Film Movers
Solving air film Movers are designed for handling very heavy loads, i.e. up to a thousand tonnes or more and are generally customised to suit customer's requirements. The load is placed either directly on the Mover or on a load pallet, under which the air film Mover drives when collecting the load.  When in operation the Mover and load float on a thin film of air.
In most cases the Mover is controlled by a remote control unit, and thus only a single operator is required to move and supervise the transport of bulky loads. Solving air film Movers are typically used by customers in the transformer, motor, paper and nuclear industries.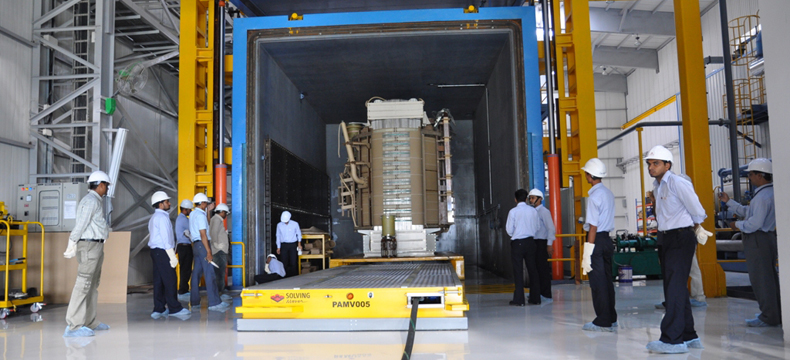 Air film Movers are used for transporting heavy and bulky loads such as diesel engines, transformers, locomotives and fuselages. Custom-built platforms floating the loads on air is a flexible method of transporting heavy material within industrial facilities.
What kind of floor is suited for air bearings?

The floor is part of the air film technology and certain floor qualities must apply to ensure efficient operation of the air film equipment. The ideal floor is well-trowelled, absolutely flat and has a papersmooth finish. Download our whitepaper below to learn all about floor requirements.

When do I use an AGV and when a transporter on air bearings?

Generally speaking AGVs are suitable for both lighter and heavier loads in continuos 24/7operation, whereas transporters on air bearings are the best solutions for really heavy loads, meaning loads up to a thousand tons or more, to be moved more seldom and shorter distances. There are always exceptions, so contact our sales team for closer discussions about your specific requirements.
Learn more about floor requirements
Want to know more? Download our white paper here:
WHEN ARE SOLVING AIR FILM MOVERS THE BEST SOLUTION?
Solving air film Movers are a good choice when customised systems are needed to suit certain requirements and specifications. They are suited for non-frequent indoor transport tasks, where high flexibility is important, e.g. the transport route can easily be changed without modifications made in the building. The Movers are a cost-effective solution (compared to cranes for instance) for handling very heavy and bulky loads, meaning loads ranging from about 50 tonnes up to a thousand tonnes or even more.
---
WHAT ADVANTAGES DO SOLVING AIR FILM MOVERS PROVIDE?
Omnidirectional driving and precise positioning
Easy manoeuvrability
No floor wear
No need for rails or guides in the floor
Very quiet and smooth operation
A clean and safe working environment
Cost-effective solution 
---
WHAT REQUIREMENTS ARE THERE ON THE FLOOR FOR AIR FILM MOVERS?
The floor is part of the air film technology and certain floor qualities must apply to ensure efficient operation of the air film equipment. The most important qualities of an ideal floor are flatness, free of steps, airtight (nonporous) and paper-smooth surface.
Flatness
When the load is floating on air, the friction between the floor and the air bearing is very low. With an uneven or inclining floor the load can start moving due to gravitational forces and therefore the flatness must meet certain requirements. The overall levelness of the floor is also important when handling heavy loads.
Free of steps
A good floor is free of steps or cracks in the floor. Minor steps and cracks can though be filled and ground or faired in.
Airtight floors
A non-porous, airtight floor surface is needed for an air film to be formed between the floor and air bearings. Small joints, cracks and damage in the floor surface can be repaired with a filling material.
Paper-smooth surface 
A welltrowelled hard concrete surface is good enough and can be used if the trowelling has resulted in a lightreflecting paper-smooth finish.
Occasional moves
For occasional moves a substandard floor can be improved using thin sheet steel or PVC.
WHAT KIND OF AIR SUPPLY IS REQUIRED?
The air supply system is of great importance for air bearing applications. Certain requirements should be met referring to air quality, piping material and dimensions as well as supply pressure to ensure correct operation with a minimum of maintenance. Occasional moves using rig sets are less prone to errors caused by air supply problems than an air bearing Mover with air powered drive units. 
---
Contact us
Contact our sales team if you have a question regarding our Air Film Movers.
You can also fill in the contact form and our team will contact you within short.