Wheeled Movers
Customised Solving Wheeled Movers are ideal for handling loads weighing from a few tons up to 150 tons or more. The Movers are typically used in various industries for transporting heavy loads such as aircraft, transformers or transformer parts, vehicles, and containers.
Typical applications of Solving Wheeled Movers
When are Solving Wheeled Movers a good choice?
We recommend that wheeled Movers are used when long distances are to be travelled, there are variations in the floor and when clean room conditions exist.
Receiving their power supply from onboard batteries, wheeled Movers are suitable for more frequent transports over extended distances, where high degrees of flexibility and manouevrability are important. The omnidirectional Movers can be positioned precisely and are in most cases controlled by a remote control unit allowing only a single operator to move and supervise the movement. No fixed installations in the floor are required, meaning that the Movers are applicable whenever changes in the route must be made.
Solving wheeled Movers are typically fitted with self-levelling axles ensuring that the wheels are always evenly loaded and in contact with the floor. The Movers can be used on various floor surfaces because variations in the floor are not so critical.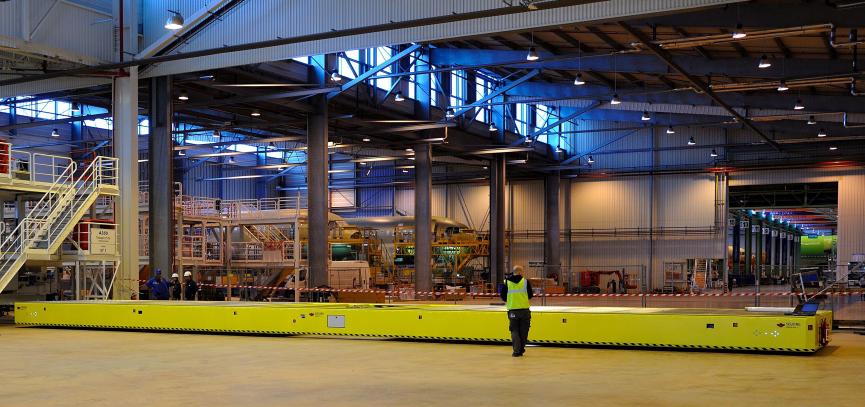 3 reasons why
1
Long distances
Solving wheeled Movers are suitable for transports over extended distances.
2
Flexible handling
Solving wheeled Movers are omnidirectional and can be positioned precisely. Transport routes can easily be changed, since there is no need for fixed installations.
3
Self-levelling axles
Self-levelling axles ensure that the wheels are evenly loaded and always in contact with the floor surface.
Trolleys designed for offshore use
Solving offshore trolleys are designed to meet the specific requirements set by the offshore industry. The heavy duty trolleys, with capacities typically from one to twenty tons, are either pneumatic or battery powered.
Fully pneumatic trolleys are approved for EX environments according to ATEX in zones I and II and they are mainly used for exchanging large and heavy components during maintenance. A rubber guard around the trolley prevents the arising of sparks.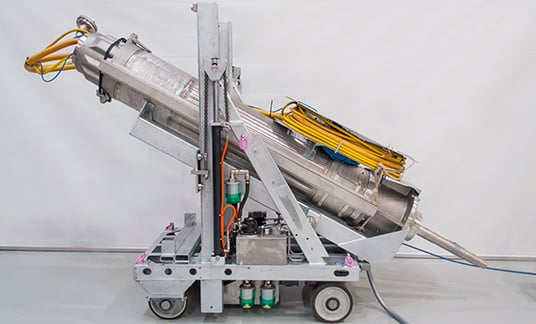 The battery powered trolleys are certified for ATEX in zone II for category 3G, IIBT3. They are equipped with electrical motors powering both the propulsion and the steering of the trolley.
The surface of both types of trolleys is either lacquered according to NORSOK standard or hot dip galvanized, and the load surface is covered with hardwood. A parking brake and an adjustable speed control for driving forwards/backwards ensure safe operation of the trolley, and a remote control unit is recommended for handling particularly heavy loads.
Solving is a qualified supplier in Achilles JQS – a Joint Qualification System for suppliers to the oil industry in Norway and Denmark and registered on the FPAL database for the European oil & gas industry.
News
Contact us
Get in contact with us. We would like to hear from you.
Fill in the form or contact us directly.