Paper & Wood
Manual and automated roll handling systems. Solving is one of the leading manufacturers of customised systems for handling heavy loads, such as reels and cores.
Solving has been providing companies in the paper and wood industry with customized handling systems since the company was founded in 1977.
Automated systems using Solving AGV Movers are designed for continuous handling of paper rolls, tambour rolls, cores and palletized sheets, whilst air film based Solving Roll Movers are used for manual movement of smaller paper rolls.
For printing houses we offer an air film-based handling concept facilitating the supply of paper rolls into printing machines.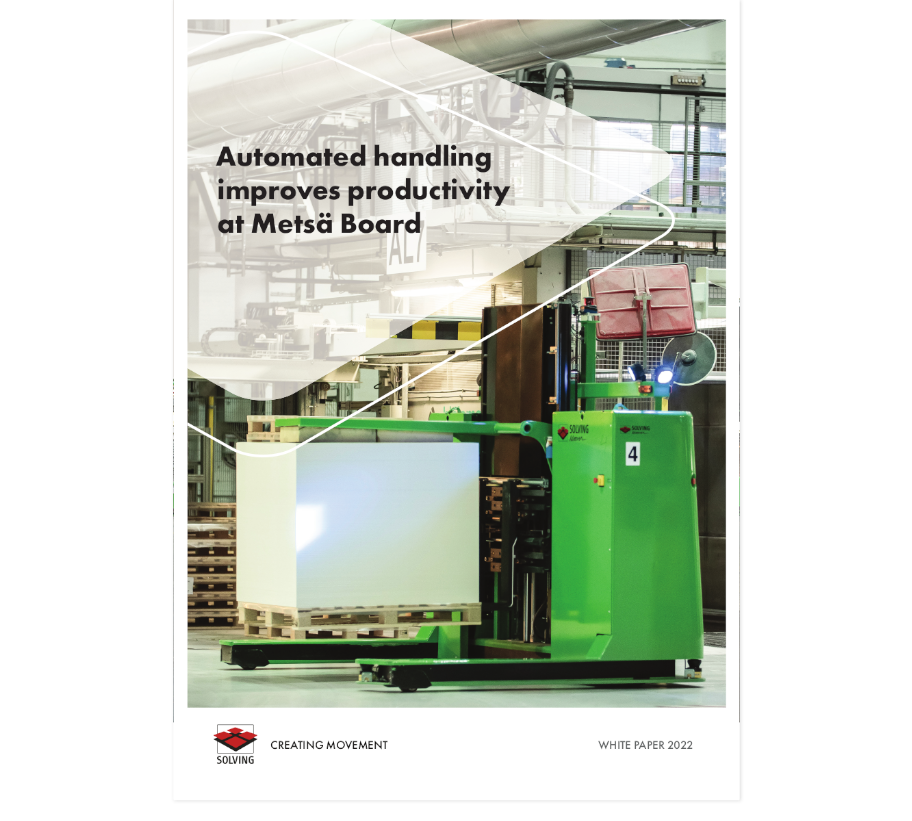 Automated handling improves productivity at Metsä Board
Using manual handling? In this white paper you will learn how automation improved the productivity at a paper mill.
Below is a selection of cases in which you can read more about various types of our handling solutions for customers in the paper & wood industry.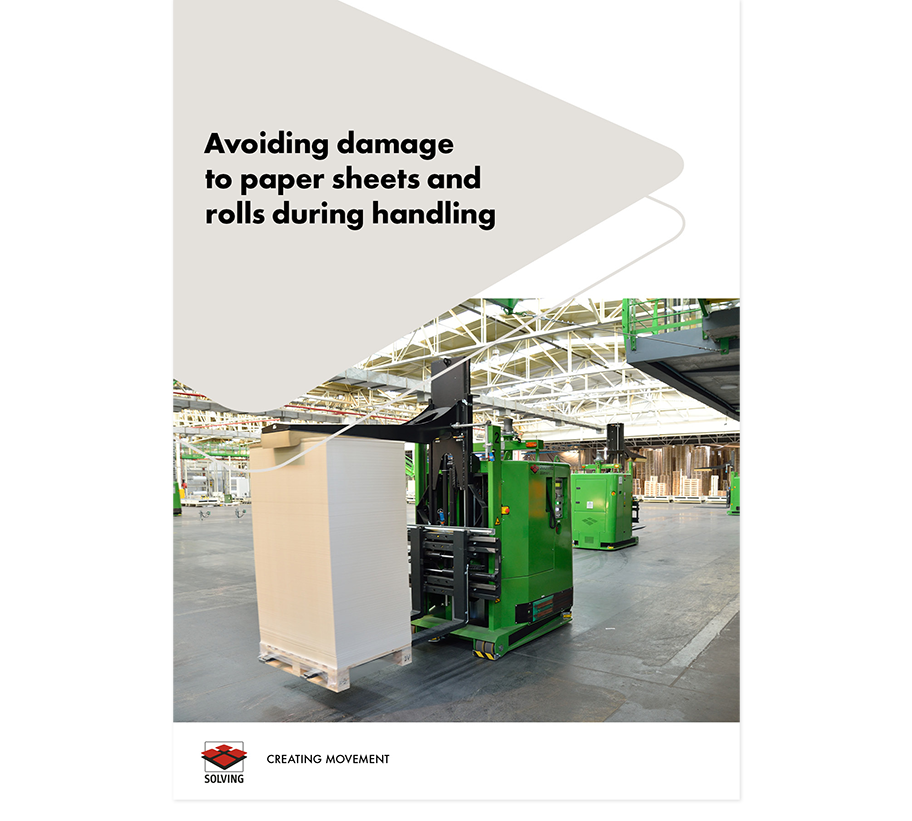 Avoid damage to paper sheets and rolls
Learn how to avoid damage to paper sheets and rolls during handling. Download our whitepaper now!
FAQs for the paper industry
Solving AGVs provide efficient, flexible and safe production in the paper industry. Automated handling of cores, sheet pallets and paper rolls is safe for personnel and products. Monotonous work and unergonomic working conditions can be avoided by installing these AGVs:
AGVs for automated handling of paper cores
AGVs for automated handling of sheet pallets
AGVs for automated handling of horizontal paper rolls
AGVs for automated handling of vertical paper rolls
AGVs for automated handling of tambour rolls
How can cores be picked up ergonomically from the floor or any other desired height?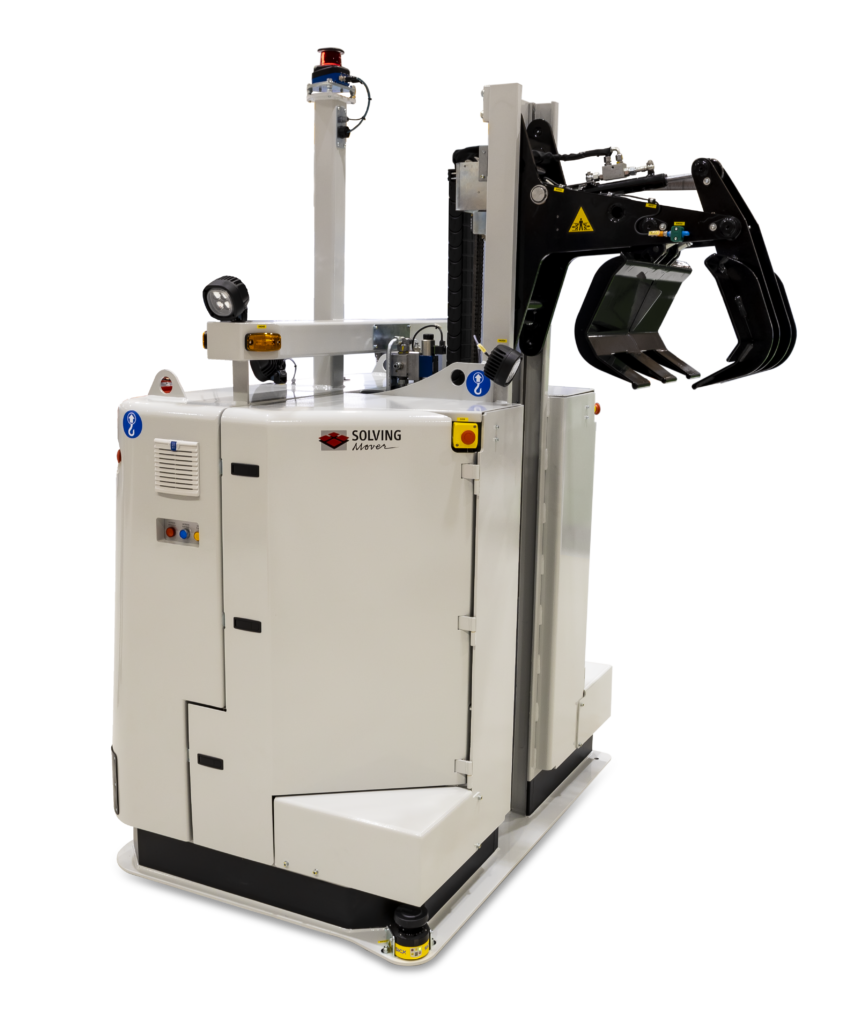 Solving core handling AGVs are equipped with built-in gripping devices and the cores can then be picked up either from the end or the long side. Adjustable in height the devices provide easy access to paper cores at any chosen height, which is important from an ergonomic perspective. With automated core handling both personal injuries and damage to the products can be avoided, and thus the cores can be reused in production. Monotonous and unergonomic work can also be avoided.
How can movement of sheet stacks, and thus paper damage, be avoided?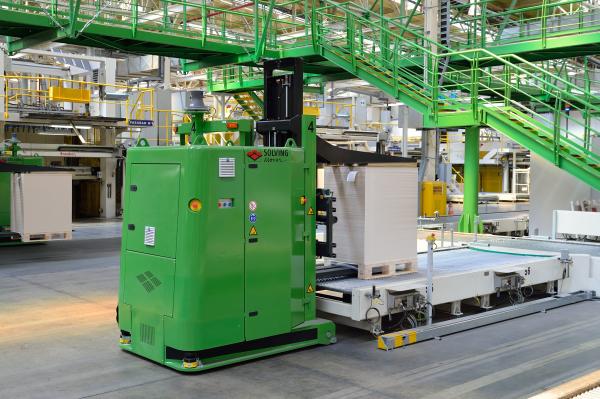 Solving AGVs for sheet pallets are fitted with a self-adjusting upper load support that holds the sheet stacks in place and thus prevents them from slipping during braking or cornering. Automated handling of sheet pallets reduces the risk of damage to the product.
How can paper rolls with varying diameters be picked up from the floor or any other required height without damaging them?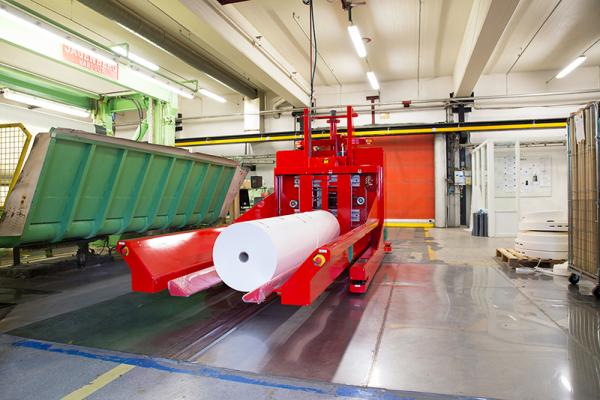 The AGVs for horizontal paper roll handling use infinitely variable forks and a built-in device for picking up the rolls directly off the floor, or from any other chosen height.
Automated handling also reduces the risk of damage to the rolls.
How can vertical paper rolls be stacked on top of each other without damaging them?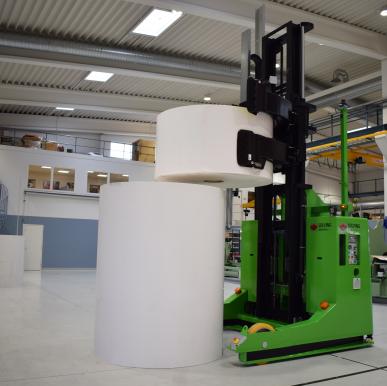 For the vertical transport of paper rolls Solving AGVs are equipped with a gripping device including a lift function to lift the paper roll from and to any desired height, and to stack paper rolls on top of each other. The gripping device also reduces handling damage to a minimum.
What are the alternatives for tambour handling as part of modernization of paper mills?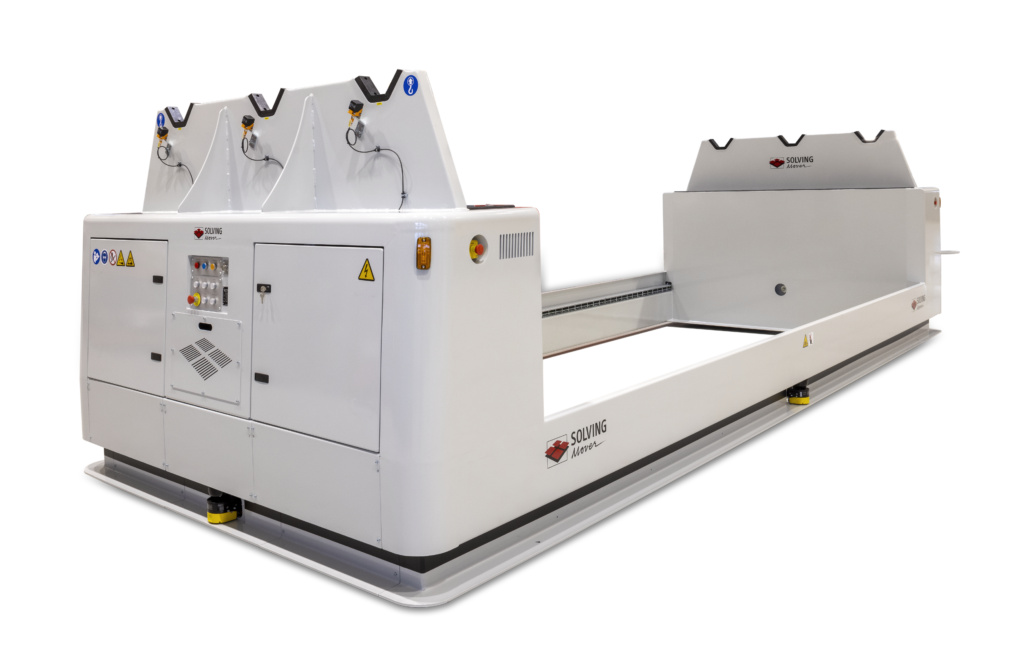 In cases where integrated equipment isn't provided by paper machine suppliers, alternative, independent solutions on air bearings, wheels or rails, can be provided by Solving for tambour handling between paper and cutting machines.

Book a consultation
Book a consultation with us today and we will contact you to set up the meeting.
News
Contact us
Get in contact with us. We would like to hear from you.
Fill in the form or contact us directly.