27.01.2022
AGCO Power's diesel engine production line built on two Solving AGV systems
AGV
Diesel engines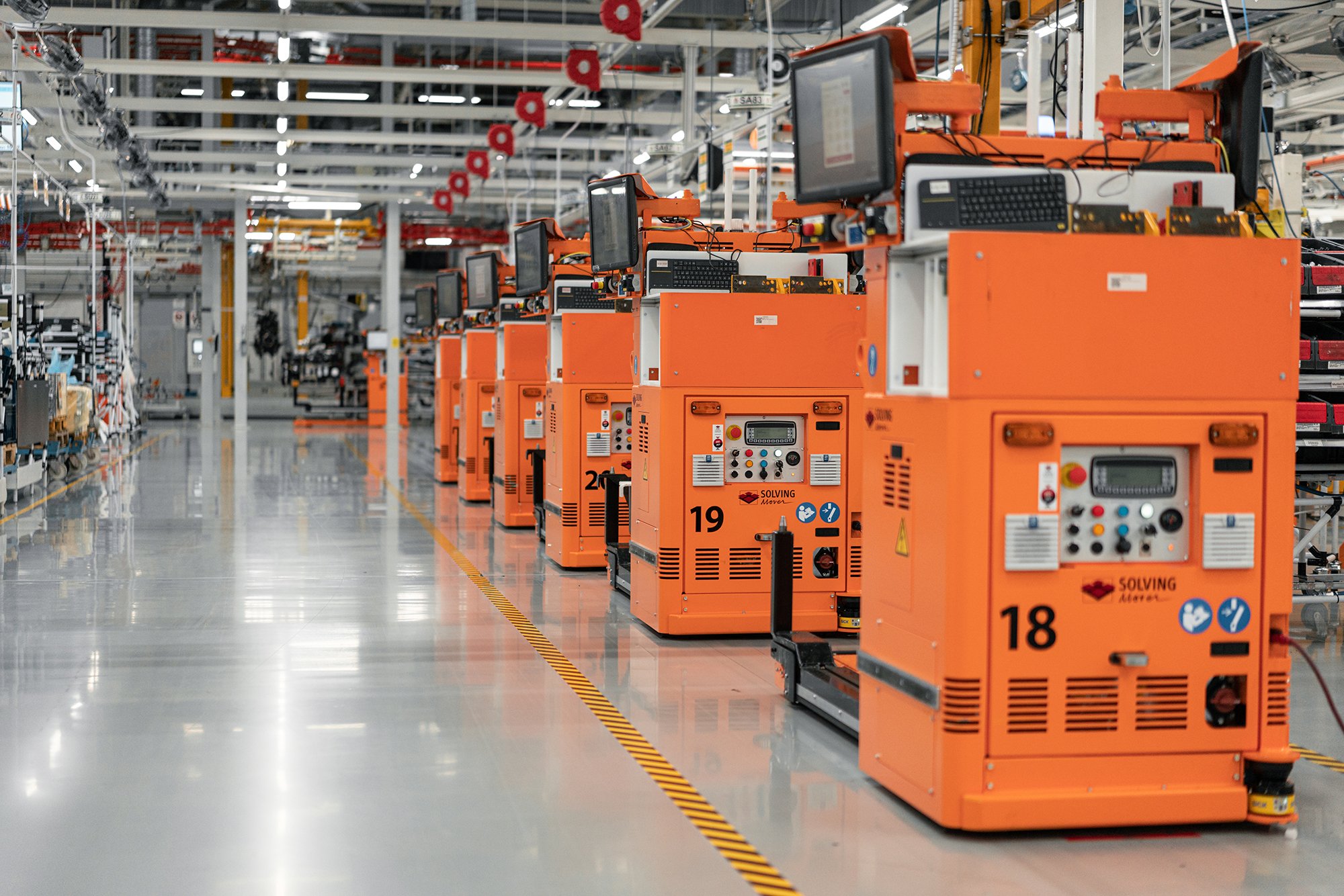 At AGCO Power, Solving's handling equipment has been in use since the collaboration started 17 years ago. Today, their entire production line is based on two AGV systems (Automated Guided Vehicles) from Solving consisting of a total of 38 units, operating in their state-of-the-art assembly plant in Linnavuori, Finland.
AGCO Power manufactures a wide array of engines for a wide array of uses, such as agricultural machinery (tractors, loaders, and other off-highway machinery), industrial applications (worksites and forestry machinery) as well as marine & freshwater transports and passenger ships. The company is today one of the world's leading diesel engine manufacturers for work vehicles.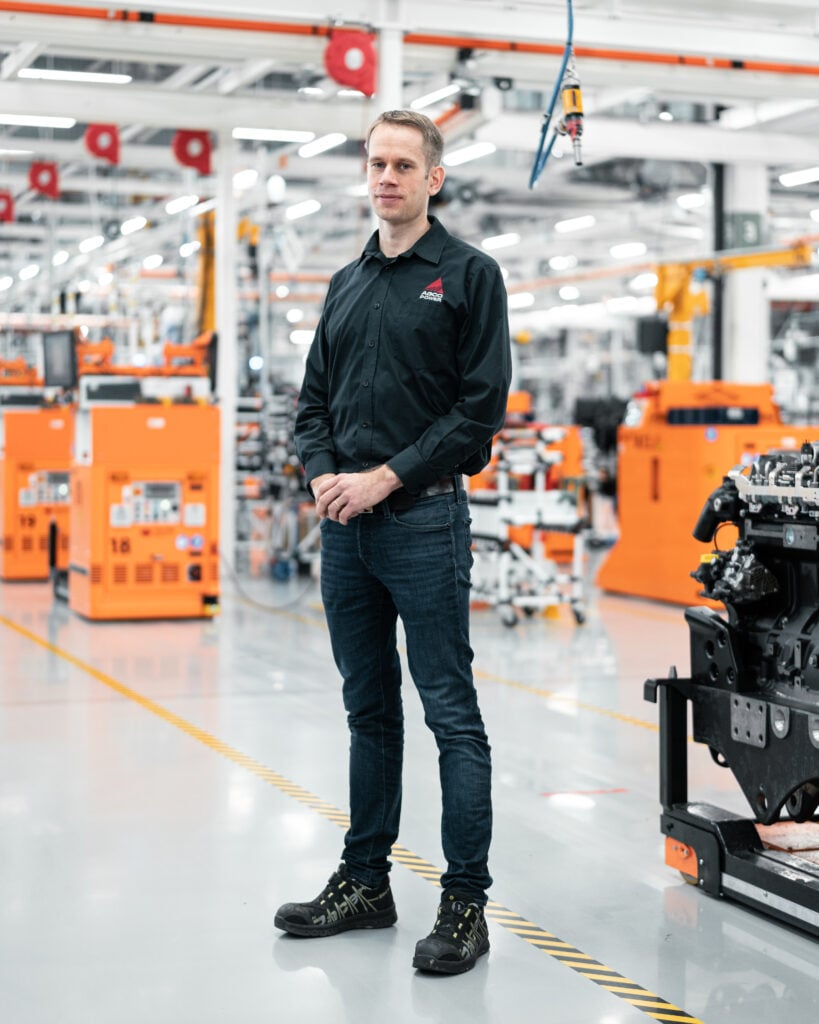 A new assembly plant and logistics center have been completed at the Linnavuori factory to modernize and streamline their engine manufacturing process, which is now automated with robots and Solving AGVs. Automation makes it possible to manufacture components in-house and reduce costs and also increase control over the production process. Improved engine quality and a cleaner and more ergonomic working environment are also expected.

"We chose Solving's AGV system for three reasons", says Timo Koota, Project Lead:

ergonomics, so that our assemblers can get closer to the motor being worked on
accessibility, to keep floors clear for personnel and material flow, and
flexibility, so that we can adapt our process to changing requirements
The assembly line consists of two AGV systems, one continuously moving and the other a stop-and-go system. 150 varying types of engines flow along the assembly line every day.
Solving has upgraded 16 previously delivered AGVs, and part of them are now fitted, among other things, with an automatic rotation function for the load to improve both productivity and handling precision; now the assembler does not need to hold the buttons during the rotation. The improved handling precision is needed when driving into robot stations, where the robots automatically mount diesel engines placed on the AGVs.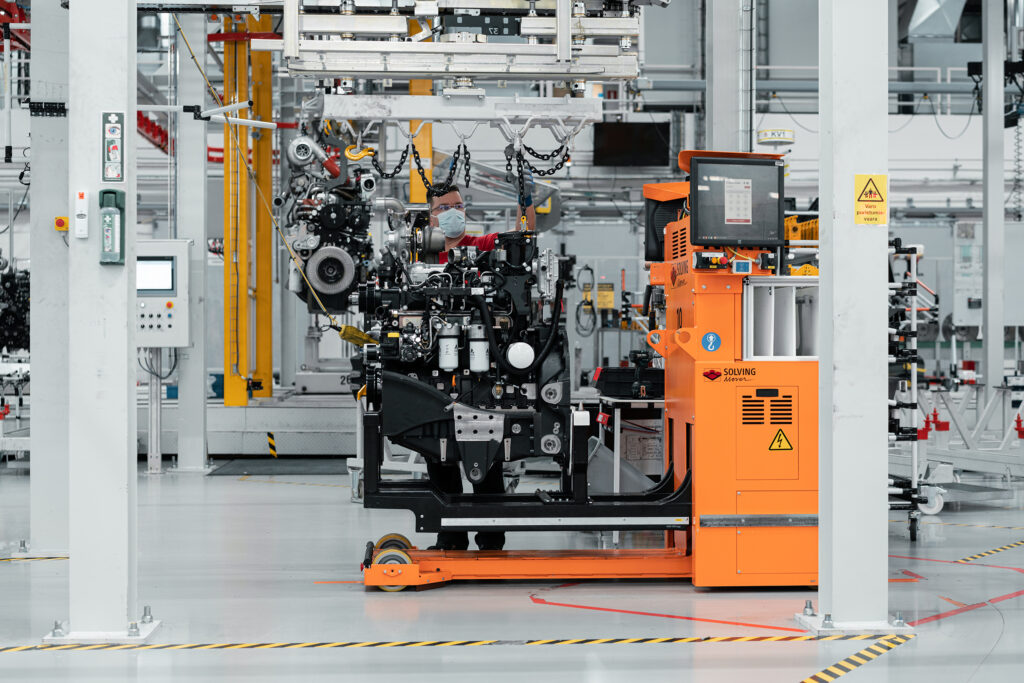 In addition, 22 brand new AGVs have been installed to handle the engines in the final assembly. These AGVs are equipped with a height-adjustable lifting function to improve ergonomics. The new assembly line is a mixture of a continuously moving system and a stop-and-go system. The continuously moving system mainly works in such a way that the AGVs run at very low pre-programmed speed within the assembly area and the assembly work itself takes place while the wagons are in motion.
The new AGV system incorporates a Siemens PLC-based stationary control system with a graphic operator interface, adapted to AGCO Power's strict requirements. AGCO monitors are mounted either on the AGVs or on fixed stations close to the assembly line to communicate with AGCO Power Manufacturing Execution System. Assemblers then receive their work instructions visually on the monitors and acknowledge their work tasks on them.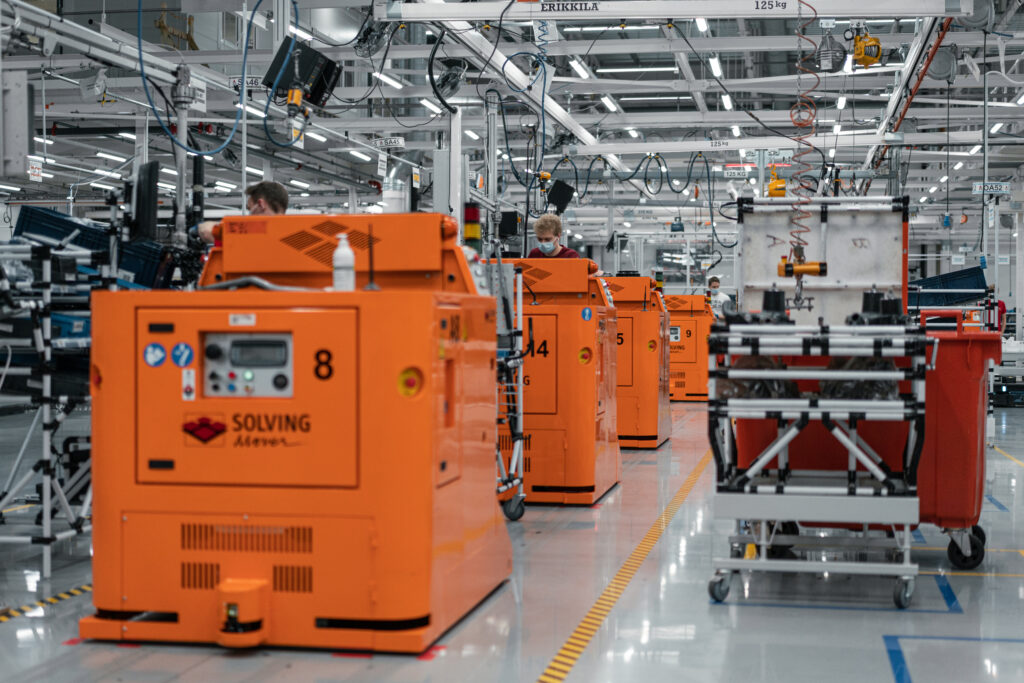 The old upgraded AGVs use wire navigation, while the new AGVs navigate with magnet spots embedded in the floor, ensuring great precision. Magnetic navigation is a robust navigation system for the mechanical manufacturing industry and is especially suitable for assembly lines, where there are always a lot of people around the AGVs.
The automated guided vehicles are equipped with normal safety devices such as safety-rated laser scanners, emergency stops, warning lights, and audible signals.
In addition to the mounting AGVs, a Solving piggy-back AGV with a roller table is used for assembled diesel engines at AGCO Power's factory. This laser-guided omnidirectional AGV with roller table transports engines to and from the test area.
Solving and AGCO Power have also signed a preventive maintenance agreement for the AGV system for several years to come.