7T Modules to move squash court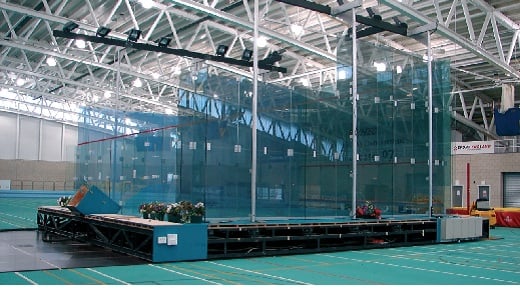 Objective
With the investment in new squash courts, the British National Squash Centre aimed for improved and optimized use of the courts. The objective was to develop a smooth solution for moving and positioning one of the squash court complete with glass walls into an open area to enable full visibility of a match to a seated audience.
Construction
The equipment consists of 16 Solving air bearing modules (also called air skates) installed in a structurally stiff base to support the complete court. The modules use compressed air to lift the squash court by a centimetre and then create a thin 'film' of air to enable the 16-tonne court to be relocated using two low-powered electric tug units. The modules operate like mini 'hovercraft', allowing heavy loads to be lifted and moved on a friction-free cushion of air.
Result
Using the 16 Solving air bearing modules, the entire squash court complete with glass walls can be lifted and floated on a cushion of compressed air into the athletics arena. Here, seating is arranged around the court to allow spectators to view the game from all sides. In addition, there is no dust or noise and the load can be safely and precisely located.