6T System for handling rolls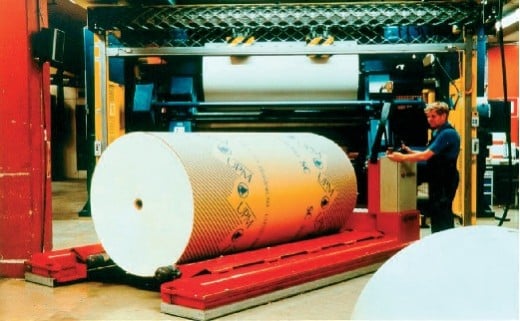 Objective
When choosing their new transport system, the customer's prime requirement was smooth handling of heavy rolls in narrow spaces and the elimination of fixed installations in the floor; Solving's reliable and efficient air film system provided this.
Construction
The Solving air bearing transporter is designed as a fork-lift truck with a built-in lifting device for picking up the roll directly off the floor and integrated rotating reels for unwinding the roll. The speed of the transport is steplessly adjustable in all directions. In addition, a hydraulic lifting table is mounted on the floor for lifting the roll and positioning it into the unwinder of the printing machine.
Result
The air bearing system provides smooth handling of heavy rolls in narrow spaces and eliminates all fixed installation in the floor. In addition, the system resulted in a safer, cleaner working environment for the employees and a reliable, cost-effective solution for the employer.