4T Automated roll handling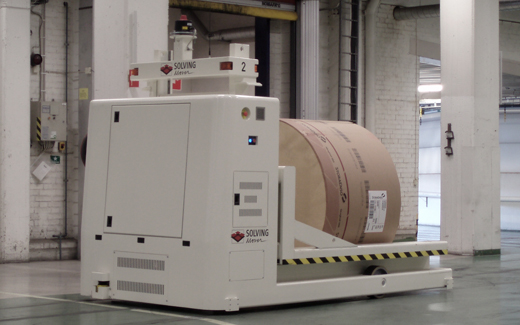 Goal
The goal of the investment was to improve the handling of cardboard rolls weighing up to 4 tons at the Forshaga PE coating unit. The rolls were to be handled 24 hours a day and safety was valued highly to avoid personal injuries as well as damage to the paper rolls.
Equipment
The system incorporates four laser-guided Solving AGV Movers and a fixed control system consisting of a vehicle computer, navigation scanner, and operator's panel. There is wireless communication to the control system via a radio modem and the most common status and error messages are indicated on a graphic display panel.
Result
The AGVs carry out monotonous tasks completely driverless with high availability, about 20 hours a day, thanks to rapid-recharge NiCd batteries. Lifting forks adjusted to the rolls ensure that handling damage to the rolls is minimized. Safety is guaranteed by laser and electromechanical bumpers, emergency stop buttons, and photocells.