3T (7T) Assembly line for chassis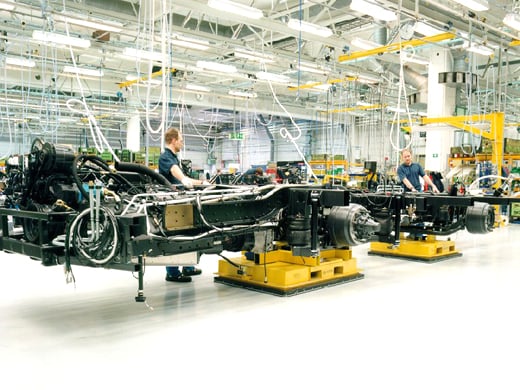 Objective
When reconstructing the assembly line, Scania wanted to retain the flexibility of the transportation and simultaneously minimize operational costs of the transport system. Furthermore it was important to find a rational way to preassemble the front axle and then easily assemble it into position under the chassis.
Construction
The carrier consists of a stable frame with slide-mounted air bearings. On top of the frame various axle carriers are fixed with quick-release locks. A lifting table equipped with a tilt function for the axle is integrated into the assembly carrier. All functions are activated by means of foot pedals or from a remote-controlled portable push-button box.
Result
The air bearings under the carrier ensure easy, friction-free transportation between the assembly stations. A fast and safe method for exact positioning during assembly is obtained by allowing the load to float on air.