15T Automatic handling of aluminum coils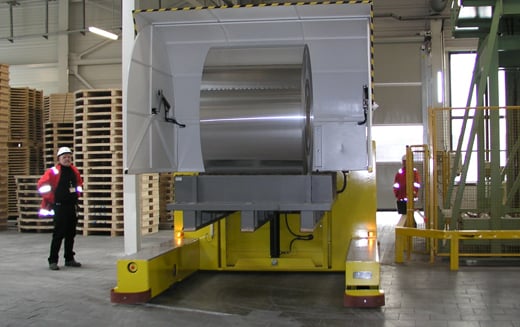 Solving AGV Movers
Hydro Aluminium chose a fork-shaped laser-guided Solving AGV Mover, which is driven indoors in two buildings and a short distance outdoors between the buildings. The frame of the Mover is designed to suit the German weather conditions and the safety devices consist of safety buffers and modern laser-based technology. The Mover is fitted with automatic load protection to protect the load from rain, dust, and dirt.
Control system
The transport orders are received via radio communication from a PC/ Windows-based Solving AGV-control system. The system communicates with fixed conveyors at the pick-up and delivery stations, and also with the automatic doors along the route. The PC is equipped with a graphic display and remote supervision for facilitating fault finding.
Result
The Solving AGV Mover assisted Hydro Aluminium in finding an economic, safe, and practical solution to their requirement for regular material flow between the production and packaging buildings, 24 hours a day.