1,5T Automated assembly line handling system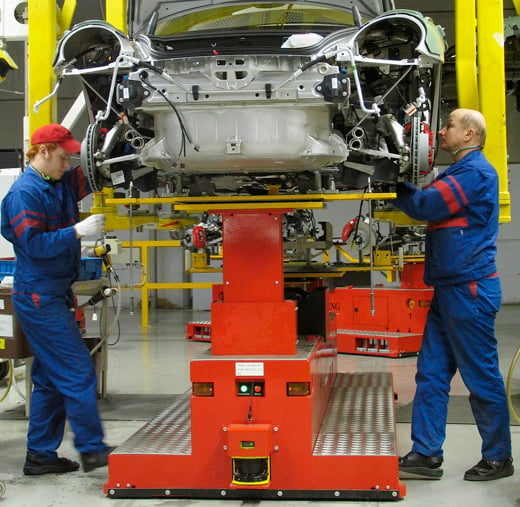 Solving AGV Movers
Nine Solving AGV Movers were installed to marry engine and transmission assemblies with the bodies in Valmet Automotive's new assembly line. The Solving AGV system uses the latest digital technology. Inductive wire and digital speed control were chosen for their accuracy and reliability, and a combination of microcomputers, radio communication and alpha-numeric operator interfaces provide an efficient user-friendly installation.
Solving Electric Movers
In addition to the AGV system, Solving Electric Movers were installed to handle engine assembly. Equipped with engine assembly jigs and an ergonomically designed handlebar, incorporating speed and direction controls, the battery-powered Solving Movers provide safe and accurate handling of the engines between each assembly station.
Result
As a specialist car manufacturer Valmet Automotive chose a production system that provided the greatest flexibility to accommodate future models from different manufacturers. The Solving system met these needs and also improves efficiency, reliability, safety and ergonomics.