140T Assembly line for diesel engine handling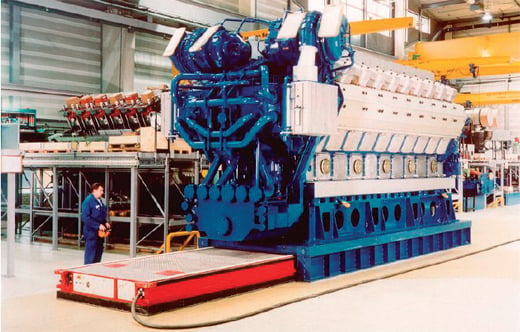 Objective
The objective for the investment was to find a more flexible solution for the transportation of diesel engines in production as opposed to a rail-guided solution. The stations of the production line are located in different areas, and the transportation between these areas should therefore be carried out in a fast and efficient way.
Construction
• The capacity is increased from 95 to 140 tons by using an adaptor
• Radio guidance
• Tape guidance facilitates driving into the assembly cells and along narrow curves
• The combination of air bearings, electric drive units, and tape guidance provides a very flexible transport solution
Result
The air film-based transport system did not require any heavily fixed installations in the construction. Apart from low investment costs this also implies more effective use of the production line. Furthermore, air film transportation provides a considerably faster way of transporting diesel engines than, for instance, cranes. The use of air bearings in production is economically profitable and provides a good clean working environment.