5T Customized ride-on vehicles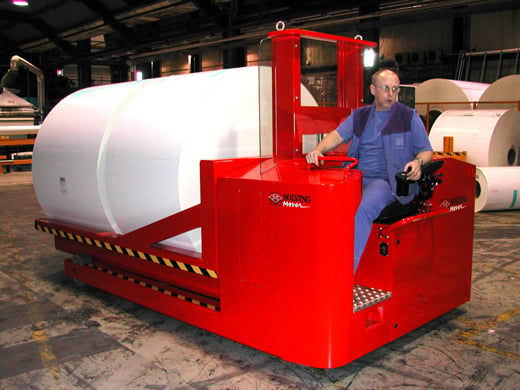 Construction
A ride-on wheeled Mover to move paper reels quickly and easily. The ride-on vehicle is robust and able to withstand heavy industrial use. It is also relatively lightweight, and smaller than alternative handling devices. Equipped with maintenance-free batteries and integral chargers the stand-on vehicle is a cost-effective solution for shorter moves around production facilities.
Operation
The ride-on truck is capable of lifting reels of up to 3,000 in length and 1,800 in diameter, up to 750 mm off the floor. The truck is also fitted with features such as gel batteries, a fast-charging system, and a blind-spot camera.
Result
Designed specifically to suit the sizes of their existing reels, the Solving ride-on vehicle provided Iggesund with a good solution for their handling requirements. It provides a rugged construction combining ease of use with ease of maintenance, long shift usage, and user-friendly controls.