2T Automatic handling of plastic rolls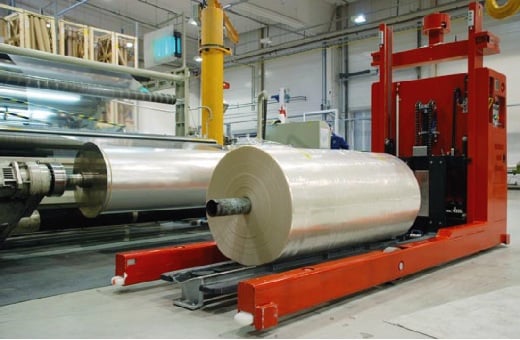 Equipment
The equipment consists of two laser-guided Solving AGV Movers and a static control station. The AGVs are controlled by a PC/Windows -based control system communicating via Intranet with a storage control system and via a radio modem with the mobile trucks.
Advantages
The automated guided vehicles are customized to suit the handling requirements at KWH Plast. About 20 automatic load handling stations in the factory are served by these two AGVs and the same trucks are used for handling both rolls and pallets. Two pallets can be moved at the same time if required.
Result
The automatic Movers collect the plastic film rolls from specified positions in the production hall and transport them to an automatic storage area. The rolls can weigh up to 2000 kg and automatic battery charging ensures 24-hour operation.