Solving Gruppe
Solving und Fluid-Bag formen gemeinsam die Solving Gruppe. Solving wurde 1977 gegründet und Fluid-Bag wurde 1987 Teil der Solving Gruppe. Historisch gesehen spielt Solving eine aktive Rolle in der Unternehmensgeschichte von Fluid-Bag, und so auch in der Entwicklung von Fluid-Bag's Produktionsmaschinen, sowie Fluid-Bag's Befüllungs- und Entleerungslösungen.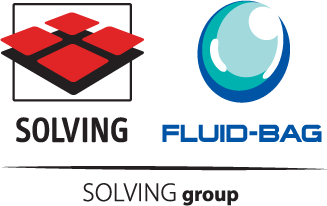 Experts on liquid and heavy load logistics
Solving designs and manufactures heavy load handling systems, while Fluid-Bag focuses on packaging and equipment for handling liquid and semi-solid products. Solving and Fluid-Bag are experts on logistics in their own fields, but have several customer segments in common. Together the Group offers a broad expertise in the handling and transportation of challenging loads and liquids. Today and in the future Solving and Fluid-Bag will be working more closely together in terms of technical support and sales, striving to offer complete logistic systems to the Group's customers and end users.
Fluid-Bag manufactures flexible industrial bulk packaging solutions for liquids and semi-solids
Fluid-Bag manufactures equipment for filling and discharge and provides custom-made solutions for specific industry needs, using Fluid-Bag technology to improve the manufacturing and logistics processes.
Fluid-Bag products
Fluid-Bag 1000 or 900 litre flexible containers are an efficient container solution for liquid and semi-solid products, ranging from food, pharmaceuticals and cosmetics to lubricants, paint, ink and adhesives.
Fluid-Bag FLEXI (1000 or 900 l) – a versatile and flexible IBC for long-distance transportation.
It is a one-way option and includes a single-trip inner container, transport bag and wooden pallet. The disposable inner container is always clean, and there is no need for maintenance or washing. The outer transport bag and pallet can easily be disposed of, and expensive return freights of empty containers can be avoided altogether.
Fluid-Bag MULTI (1000 or 900 l) – the multi-trip container with a single-use inner bag.
A flexible multi-trip intermediate bulk container designed for the transport and storage of liquid and viscous products.
Fluid-Bag MULTI combines a single-trip inner container with a reusable transport bag and steel pallet. The disposable inner container is always clean: there is no need for maintenance or washing. The reusable outer transport bag can be reused up to 25 times, and the steel pallet can do more than 100 trips.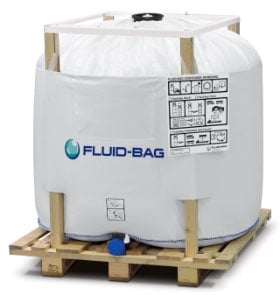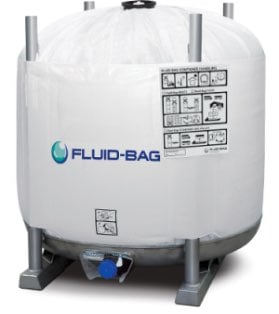 Solving Group consists of Ab Solving Oy and it's subsidaries Solving Sweden Ab, Solving Ltd (UK), Solving Italia S.r.l. (Italy) and Solving GmbH (Germany) as well as Fluid-Bag Ltd and its subsidiaries Fluid-Bag LLC (USA) and Fluid-Bag Asia (Thailand).
Read more about Fluid-Bag and their products on www.fluid-bag-com