08.04.2021
Automated handling improves productivity at Metsä Board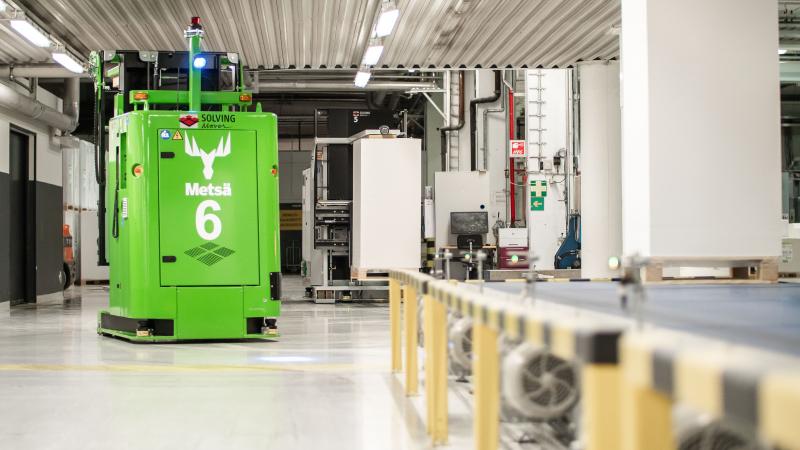 Metsä Board is continuously automating the handling of palletized sheets, paper rolls, cores and empty pallets in their board production at their Äänekoski board mill in Finland that has an annual production capacity of 260.000 tons. Ten Solving automated guided vehicles (AGVs) of various types handle paper board rolls to and from a buffer store and to unwrapping at three sheet cutters. The AGVs also transport palletized sheets from a sheet cutter to packing as well as handling cores from sheet cutters to further processing.
Cooperation since ten years

The cooperation with Solving started roughly ten years ago, when Metsä Board decided to automate the sheet handling area. Stationary conveyor belts were not an alternative, because they would have closed the area for traffic for both personnel and manual trucks. The mill also looked for a more cost-effective way of handling regular transport orders than manual handling could provide.
Initially three automated guided vehicles were installed to transport palletized sheets from cutters to a conveyor belt that transferred them to the packaging line and on to storage.
To allow various sizes of sheets to be handled with the same AGV they were equipped with adjustable forks. A self-adjusting upper load support holds the sheet stacks in place and prevents them from slipping during braking or cornering.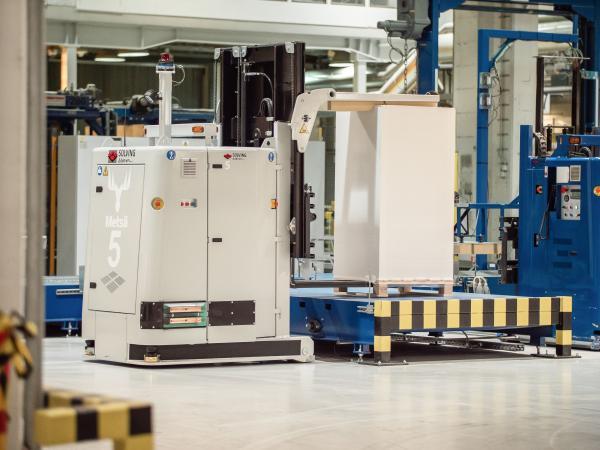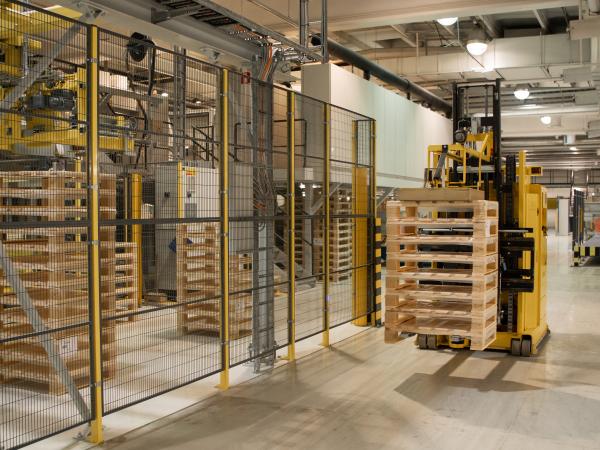 The AGV fleet has been extended regularly by more palletized sheet AGVs, and one of them is now dedicated to the handling of empty pallets.
Omnidirectional AGV for increased capacity

As the sheet handling area was becoming more automated, a need was defined for increased capacity in a restricted small area in the hall, and an omnidirectional AGV for palletized sheets was installed. The more efficient omnidirectional AGV allowed the number of movements per hour, and thus the capacity, to be increased.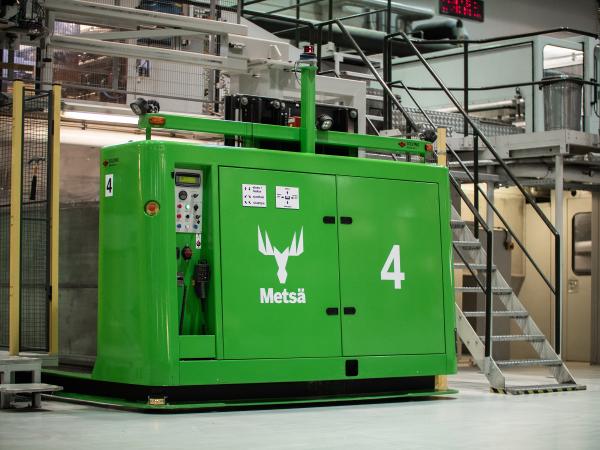 Ergonomic handling of cores

Ergonomic considerations played an important role when Metsä Board chose to automate the handling of empty cores, which were previously handled manually. Being equipped with height-adjustable gripping devices, Solving's AGVs can collect cores from a floor-level conveyor belt and transport them to another conveyor belt for transfer to a storage location. The cores are then reused in production.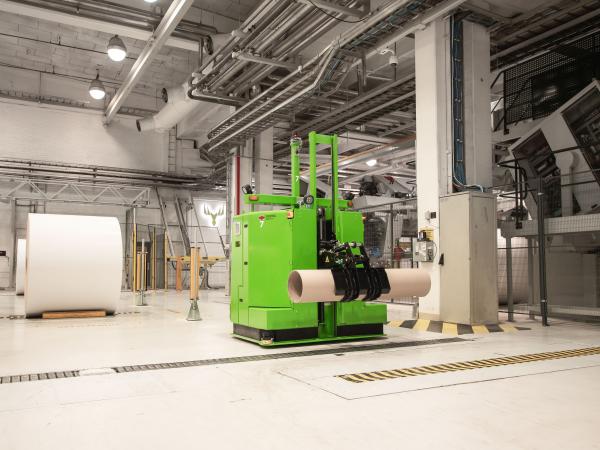 High-lift AGVs automate the roll storage

Once space was freed up, a new AGV-based buffer storage system for rolls was installed. This resulted in an increased buffering capacity and thus a larger degree of self-sufficiency was available. Two high-lift AGVs were installed in the new storage area, partly for handling vertical rolls from storage to a conveyor belt sending them on to a sheet cutter, and partly for handling rolls coming into storage. The high-lift AGVs enable up to three rolls to be stacked on top of each other.
Latest safety equipment

The AGVs are all fitted with safety equipment to improve protection for personnel and to avoid damage to both board and other equipment in the mill. Programmable laser scanners in the AGV's corners and forks detect any obstacles in the transport route and they can then slow down and eventually stop. The AGVs can also be stopped manually with easily accessible emergency stops. Audible and optical warning signals further improve safety.
The AGVs for palletized sheets, empty pallets, rolls and cores are fitted with fast rechargeable batteries, and they drive automatically to the charging station whenever the battery levels become critical.