04.11.2016
Solving Sweden AB manufactures air bearings for 25 years
This year 25 years have passed since Solving Sweden AB was founded and Solving took over the manufacture of air bearings in Västerås from BT Movit. Production has continued since then – today though with a more efficient production facility and consequently improved air bearing quality. In addition to air bearing based handling systems Solving's extensive product range now includes wheeled automated guided vehicles (AGVs).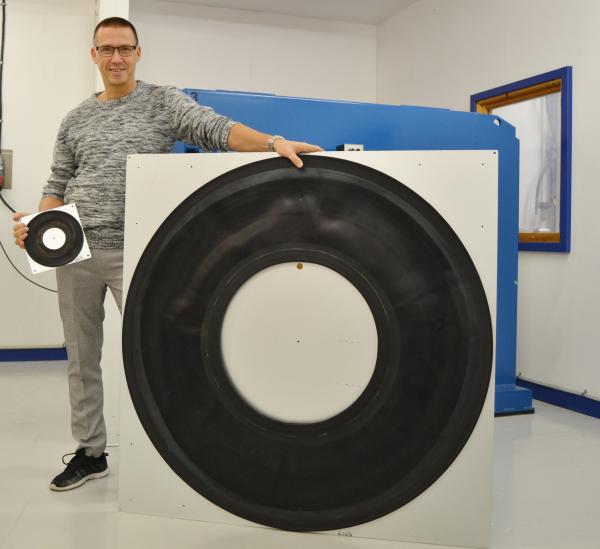 Anders Mattsmyr is responsible for the production of air bearings at Solving Sweden AB.
Solving Sweden AB manufactures air bearings, essential core components incorporated within handling systems designed and produced by the parent company in Jakobstad, Finland. These systems, known as Solving Air Film Movers, are installed at customers' facilities in Sweden and worldwide for handling very heavy loads – up to several hundred tons – and for handling loads in narrow areas. Because air film technology does not require any fixed installations in the floor you can operate the Movers with millimetre precision in all horizontal directions.
From handmade to automated production
The production in Västerås has developed from almost entirely manual work to an increasingly mechanised and partly automated process. With greater efficiency the production capacity is now considerably larger although the number of staff has been maintained. In addition the flexible Västerås-staff now work more frequently in the field with start-ups and aftersales activities for Swedish customers. This means that the service team is always nearby to support the purchase of new systems, scheduled annual service agreements or urgent spare parts requests. At the same time the technical expertise of the parent company is always available when necessary, especially for automated handling systems which have been part of Solving's product family for many years.
Anders Mattsmyr, who is responsible for production and servicing, says:
– In November 1988, at the age of 20, I started to work here as a fitter and service technician for BT-Movit. It was my first job straight after the compulsory military service. In 1990 I was part of the team moving the air film production to our facilities in Västerås, a production process that was difficult in many respects because everything was made manually and a lot of chemicals were used.
In 1991 Solving Sweden AB was founded and the problems related to the manufacturing were remedied immediately.
– We developed special machinery and tools suited to the air bearing production to mechanise several stages, Mattsmyr explains, and we also made major improvements when new rubber material was developed in cooperation with our supplier – material that facilitated production, shortened lead times and improved the performance of the air bearing.
Today production is very clean with facilities properly adapted to the requirements of manufacture, and the latest air bearings are of exceptionally high and consistent quality as a result.
Local presence
In Sweden Solving's products have been installed by a large number of customers in a variety of industrial sectors – products ranging from simple solutions on air bearings and larger air film Movers to complete and highly sophisticated AGV (Automated Guided Vehicle) systems.
– Two of the most recent projects incorporating air bearings are actually at companies in the Västerås-area: the first one is at ABB Robotics, one of the world's largest robot manufacturers, who will start producing some of their robot series on air film pallets from Solving. The difference between this project and the next one is significant, says Area Sales Manager Mats Eriksson with a smile and he goes on to describe the animal clinic in Strömsholm that now uses a specially designed equine table on air bearings for X-raying horses; the horses are placed on the equine table which is moved around the camera to achieve the highest safety and best result.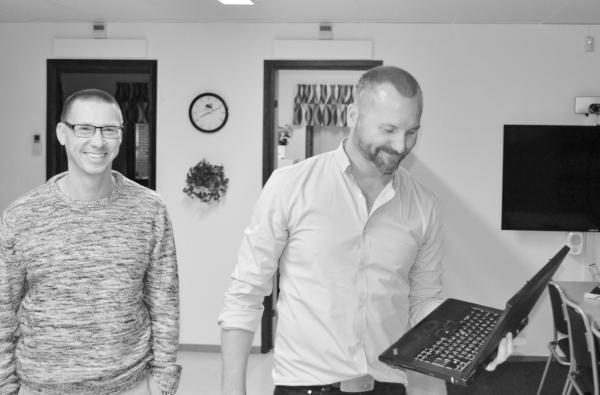 Quality, security of supply and availability
During Solving Sweden AB's quarter-century operation, equipment has been supplied to about 60 countries around the world and many of them are air film based. Solving therefore focuses on fast spare part deliveries to make possible production delays at customers' sites as short as possible.
– The future looks bright, says Anders Mattsmyr. We have developed efficient air bearing production methods over the years to ensure that flexibility and security of supply are our strengths. We also recognise an increasing requirement to be available at customers' sites during start-up and for service tasks, Anders Mattsmyr continues.
Mats Eriksson sees an exciting future from a market perspective.
– We have a broad product portfolio that is continuously being developed and we can now offer a good alternative for almost any material handling requirement to a variety of industrial sectors, either on air bearings or wheels. Regular attendance at customers' sites, sensitivity to their requirements and continued high product quality are my plans for Solving's future success, Mats Eriksson concludes.