4T Paper reel and core handling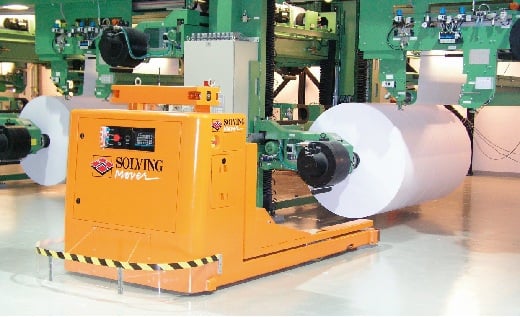 Equipment
AGV's for for handling reels and cores. The two Solving AGV Movers are controlled by in-floor inductive wire guidance and receive their instructions from the sheet cutter via a fixed PCbased Solving control centre. Each mover is entirely automatic, requiring no operator involvement, and is equipped with a variety of safety devices to avoid injury or collision. Charging stations are located to allow the batteries to be automatically topped up whilst the units are stationary.
Construction
Solving Movers are constructed from welded steel, and the drive functions are achieved using onboard batteries and motors. The driven wheel is combined with a steering unit, and support wheels are located in each lower outrigger. The load handling forks adjust to accommodate empty cores and a variety of reel sizes.
Result
The Solving Movers are designed for 24-hour automatic operation, providing the customer with absolute control over material flow, minimal product damage, and reduced shift labour costs. Because the cores are removed promptly, the area around the cutting machine is kept clear and tidy.