20T Cable and wire handling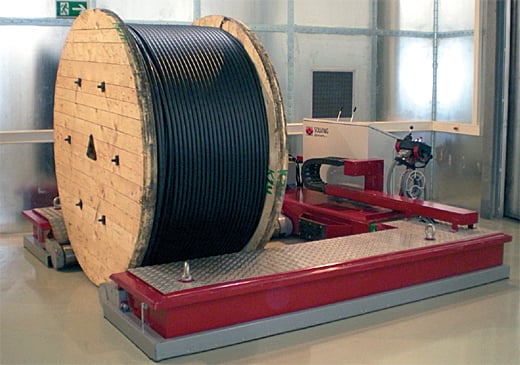 Equipment
Solving's U-shaped cable reel Mover handles cable drums weighing up to 20 tonnes in a modern newly-constructed high voltage test laboratory within the production facility. The air bearings are slide mounted to facilitate easy withdrawal for maintenance even if the transporter is loaded. 
Advantages
Fitted with adjustable forks, the Mover is capable of handling reels with diff erent diameters and is used regularly during three production shifts. Two powered rollers allow rotation of the cable reel in both directions using a built-in pneumatic drive unit, allowing easy access to cableends.
Result
Being controlled completely pneumatically and containing no electrical components, Solving's air bearing-based spark-free Mover meets the explosion-proof requirements of a high voltage test laboratory.